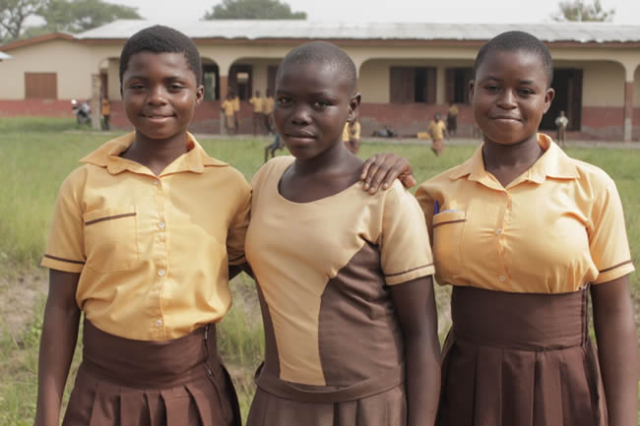 The setting looks so 1930. Colonial Ghana, Gold Coast. Air-conditioned four wheel drives weaving through yellowish withered Savannah grasses. Glasses rolled up to stop dust from the run-down countryside road from coming into the car. Buckets of pick-up land rovers stuffed with loads of hand-outs. And the poor villagers, whom they are meant for, stand by the road side confused which government official could be in the passing vehicle and yet pull through occasional waves and constant wry smiles.
But this is 2015. And I am travelling with social enterprise workers with the Bright Generation Community Foundation (BGCF) to deliver locally made sanitary pads to vulnerable girls. The whole picture looks so distant and outmoded. But even more out of time is the reason why we are on this journey.
We are heading to Dawia, a remote town in the Sekyere Afram Plains district of Ghana's Ashanti region. Bernice Dapaah, who is leading this trip, knows this picture all too well.
She grew up in this area in rural Ghana. Here, girls are cut off from the communities in which they live. Issues of menstruation, like every other issue to do with adolescent sexuality and reproductive health, is almost a taboo, never to be talked about. "The things that girls face growing up here are things I have seen myself. Buying a sanitary pad for example when you are in your menstruation period is a luxury and poor as we were, we couldn't afford it", she says.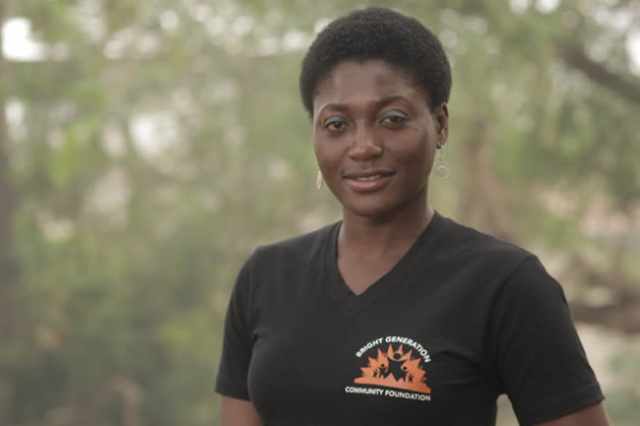 Bernice Dapaah grew up in rural Ghana using rags herself in times of menstruation. She wants to change that with the Bright Generation Community Foundation making sanitary pads for girls.
Bernice, despite the challenge persisted and saw herself through school. But half of all girls who stay out of school, according to a 2010 study by the Oxford University, do because they won't be able to buy a sanitary pad when menstruating.
"You can't concentrate because you feel uncomfortable and if friends start laughing at you because your uniform is soiled with blood, the shame alone could put you out of school".
In 2008 Bernice founded (BGCF), hoping to shine a light on the problem.
"You are almost locked in a cell alone and no one listens to you. Your views don't matter," says Bernice says of life as a girl here.
With waste from clothes, her organisation is making cheap sanitary pads for girls in rural Ghana. I am on this journey with her to meet some of the girls who would be first to receive the pads. The Dawia Township strikes you. It lies right at the banks of the Volta Lake and its people, mainly migrant settlers, do two main things- farming and fishing. Beyond these, there's no life.
More girls are choosing to go to school in Ghana than before but basic problems that affect their adolescent sexual reproductive health limit their academic progress.
Worsening climate conditions in Ghana (no rains and excessive sunshine) mean none of these two trades is doing well. And the result is harsh poverty. It is the effect of these that is telling on faces of the townfolks as we zoom into the village square; despair.
"If the parents are poor, catering for their children is a problem and things like a sanitary pads are some of the luxuries that has to be sacrificed", says Adamu Issah, Assemblyman for the area.
The District, created in 2012, is one of the poorest in Ghana and the cycle of poverty cripples everything and as a 2014 report by the district assembly showed; 2 out of 3 girls here get pregnant before age eighteen. Girls, with no money to buy such basic stuff as sanitary pads, turn to older men who trade money for sex, the study concluded. The result of this is rising teenage pregnancy and vulnerability to sexually transmitted infections.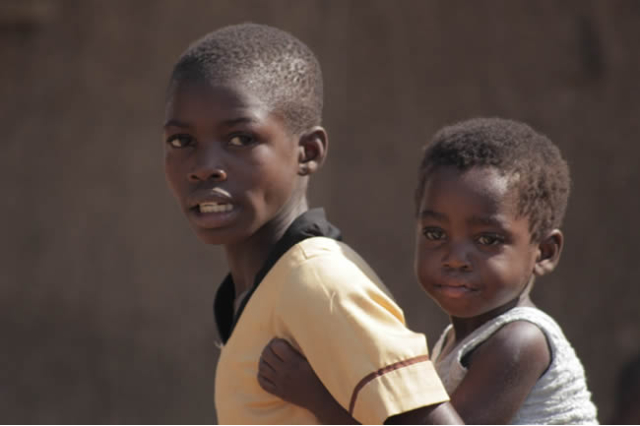 YOUNG MOTHERS! Two out all girls in the Sekyere Afram Plains district would give birth before age 18 according to a 2014 study.
I want to find out from girls here how that really affects life.So I have come to the outskirts of Dawia to meet fourteen year old Hawa. She rarely misses school except days like this. Today is the first day of her menstrual cycle for this month.
She has to skip school and keep washing the rags she uses as sanitary pads. "I want to be a nurse and that's why I always want to go to school but there are times I just can't. These rags leak all the time when I use it. I feel wet and when my school dress is soiled with blood, the boys laugh at me"
It's a thing that resonates across this village. Many girls here suffer and yet are silent. At the heart of this issue is a bigger problem even with Ghana's educational system. Infrastructural planning for schools in Ghana has always been done with little or no consideration for the sexual health of pupils at all, especially girls.
Cheap sanitary pads could reduce girl-child absenteeism in Ghana by half according to a 2010 Oxford University report. BGCF's initiative could make this possible. In the Dawia Primary school where Hawa schools, the school structure has no toilets, talk more of changing rooms so girls could changeover in menstrual times assuming they even had the healthy sanitary pads.
"Girls are shy to even dry their sanitary clothes in the open so the sun could dry it well. They are scared of the shame and the result of that is that the rags they use carry bacteria that could harm their genitals", says Elizabeth Sarfo-Adu who heads the Ghana Health Service in the district.
"We need to talk about it. That is the first step, making sexual health a common issue even for teachers in schools so girls get the right training about it" Bernice says. For girls in Dawia, lucky to have been in school to receive these pads, this could mean staying in school. But as the bigger problem of the secrecy surround sexual health persist, more girls their age would suffer silently.