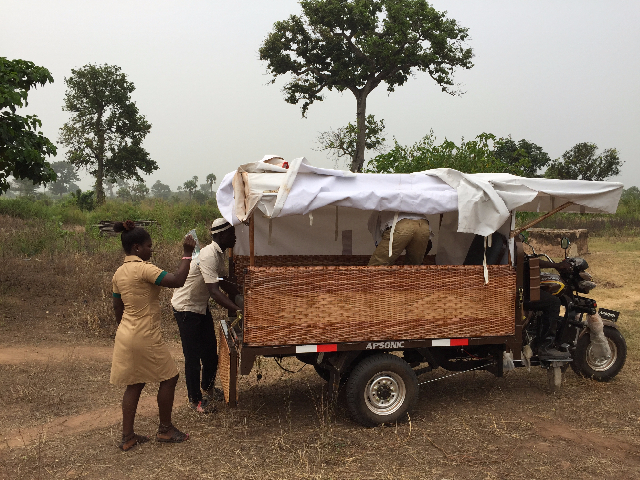 For many women in rural Ghana, childbirth could mean the difference between life and death. Run-down roads, an unreliable ambulance service and inadequate health facilities make labour a nightmare and child survival a matter of luck.
Despite huge efforts to bring down maternal and infant mortality and the strides already achieved, one new-born child dies every 15 minutes with 30,000 new-born deaths recorded every year according to the UN's children Fund, UNICEF.
That is what Bernice Dapaah, a social entrepreneur is seeking to change. Bernice has been running the Bright Generation Community Foundation (BGCF), since 2008 and recently ventured into turning cheap tricycles into makeshift ambulances that could navigate some of Ghana's dangerous roads to convey women in labour from hard-to-reach communities to health centres.
"We saw that tricycles are now common in Ghana. They are strong for our village roads and also small enough to enter the hinterlands so we decided to turn them into comfortable vehicles women in labour can use"
With support from the Health Reach Foundation (HRF), a non-governmental organisation (NGO) and the AU Fund for African Women, BGCF has now launched the locally re-designed tri-cycle as an easier means of transport for the health sector in the rural areas to enhance maternal healthcare. The NGO presented the tricycle ambulance to the Dawia Community Health Center in the Sekyere Afram Plains District- one of the districts with the worse maternal mortality figures.
"Apart from reducing maternal and infant mortality in deprived communities, we are promoting the tricycle ambulance as a viable means of emergency transport not just for the women in labour, but also for health workers transporting their patients"
It is an improvement upon an earlier bamboo bicycle ambulance the BGCF had designed and presented to Dawia Community Health Center in the Sekyere Afram Plains District of the Ashanti Region in July of 2015. Bernice began her social enterprise work pioneering Ghana's first bamboo bicycle which won a SEED award and earned international plaudits from UN Chief, Ban Ki Moon.
"When we successfully did the bamboo bicycle, we thought of moving it a step further and the idea of using it to help women kicked in, so we jumped on it and here we are, Mahmud" says Bernice. The story of Dawia, the town that first received the tricycles is a perfect example of why so many women and their children still die during childbirth.
It is more than 30 kilometres away from the district capital where the nearest health facility is located. Women, when in labour, would have to be carried on bareback of men for the entire journey on foot to see a midwife.
"Many do not make it, Mahmud Alhassan, an opinion leader in the community. Alhassan himself recounts two of her two close neighbours who have died in the last three months alone trying to make that journey deliver.
District Health Director for the area, Elizabeth Sarfo Adu says the service in the area is "heavily challenged with resources. And that makes it impossible for them to be there when the women need them most".
"Apart from reducing maternal mortality in deprived communities, we are promoting the bamboo bike ambulance as a viable means of emergency transport that the government can invest into," says Magdalene Mensah from the Health Research Foundation (HRF).
Her organisation is looking into creating a mechanism that tracks the use of the tricycle ambulance to serve the intended purpose- to improve maternal health and reduce infant mortality rate and to scale up its production to benefit more communities. At least 80 percent of all maternal deaths could be prevented if Ghana could reduce the delay and cost of transportation in deprived communities and ensure better access for expectant mothers, especially, to local health facilities according to the Ghana Health Service (GHS).
"We have suffered enough. Now that we are going to have an easy way of transporting women,that should be over," says Mahmud.