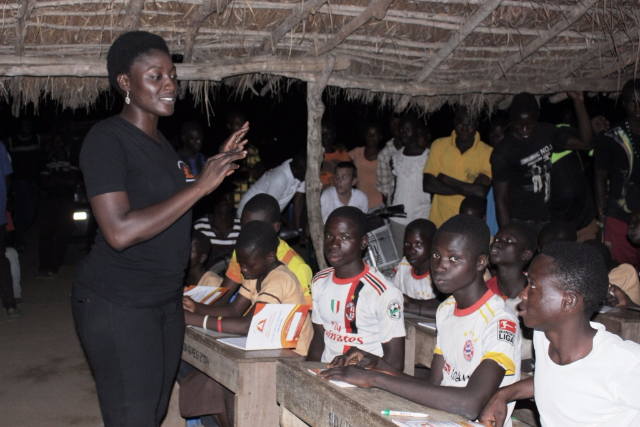 Bright Generation Community Foundation (BGCF), a youth-led community empowerment organization, is reaching out to less-privileged children in rural Ghana with solar panels to aid their learning. The "Light UP" project is part of a holistic education campaign dubbed "Education PLUS", which has over the years trained 127 volunteer teachers, placed in 12 deprived communities.
This is in line with the objective of achieving Goal 4 of the United Nations Sustainable Development Goals (SDGs) of "ensure inclusive and equitable quality education and promote lifelong learning opportunities for all". One community beneficiary is Dunya, a farming community without electricity thereby making learning a difficult task after class hours.
The installation of a solar panel in the community school is enhancing learning activities at night. The light up project, according to Executive Director of the BGCF, Bernice Dapaah has elicited more teachers' interest in engaging the students in extra classes at night.
"That was impossible until the solar panel was installed by the organization," she observed. "Volunteer teachers some from within the community motivated by the goodwill demonstrated by BGCF vowed to make successful the evening classes for the children".  Lack of lighting system places children in rural communities at disadvantage in competing with colleagues in urban areas.
The chief, elders, and people of the local community are excited at the intervention and are hopeful the project help improve the academic performance of the students. The BGCF is looking forward to replicate the project in other parts of the country in dire need of alternative source of light to facilitate their learning process. The organization also looks forward to recruiting more volunteer teachers to serve disadvantaged communities.